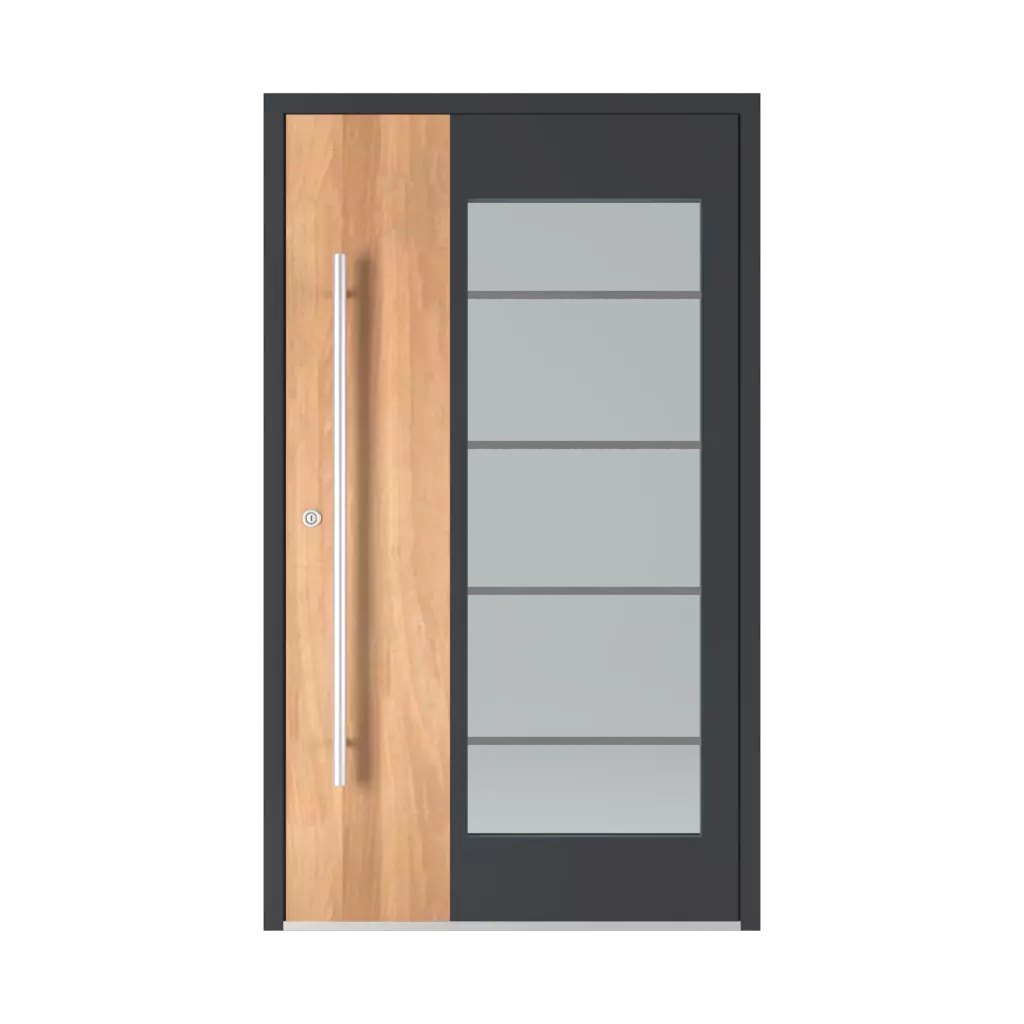 Dindecor offers a variety of door models, including Model 6110 from the Aluminum series in the PREMIUM line. These doors present a modern and prestigious character thanks to the Montana veneer. A unique element is the smooth surface of the door without application, which adds life and a unique look to the door. These doors feature glazed panels that allow natural light to enter the room.
These doors are also characterized by the possibility of using a stainless steel kick, both glued and flush. The offered collection of door models from the Aluminum series in the PREMIUM line is a combination of the highest quality, light and durable material with a variety of patterns that will provide customers with unique solutions and aesthetic experiences.
The door can be used in an aluminum panel in three types of filling: batch, one-sided and double-sided overlay.
We offer doors in three different variants of the sidelight, allowing customers to choose the best solution for their needs. The door is available without a transom, creating a minimalist aesthetic, ideal for people who value complete privacy. Another option is a door with a glass transom, which introduces natural light into the room, creating a pleasant atmosphere and optimal lighting. On the other hand, doors with a full transom are the choice for those who want maximum light and spaciousness. By offering these three variants, we provide our customers with full freedom in creating the interior according to their preferences and functional requirements.
The range of doors includes a variety of types, including single- and double-leaf, which can be opened outwards or inwards, adapting to the individual needs and preferences of the customer.
Thanks to this, we provide versatile solutions that not only maintain aesthetics, but also take into account functionality and comfort of use.
Whether you need outward opening doors to make the most of your interior space, or prefer inward opening models for an elegant and secure solution, we are ready to meet your expectations by creating doors that perfectly match your lifestyle.
The doors in our offer can be opened in various ways, adapting to individual preferences. We offer you the choice between a handle, a handle or a knob to ensure a comfortable and pleasant experience of use. The handle is a traditional solution that is convenient and intuitive to use.
The handle is a minimalist option that gives the door a modern look. The door knob, on the other hand, is an elegant and sophisticated solution that can serve as both a decorative and functional element. Thanks to this variety of choices, we provide our customers with the freedom to create doors ideally suited to their style and preferences.