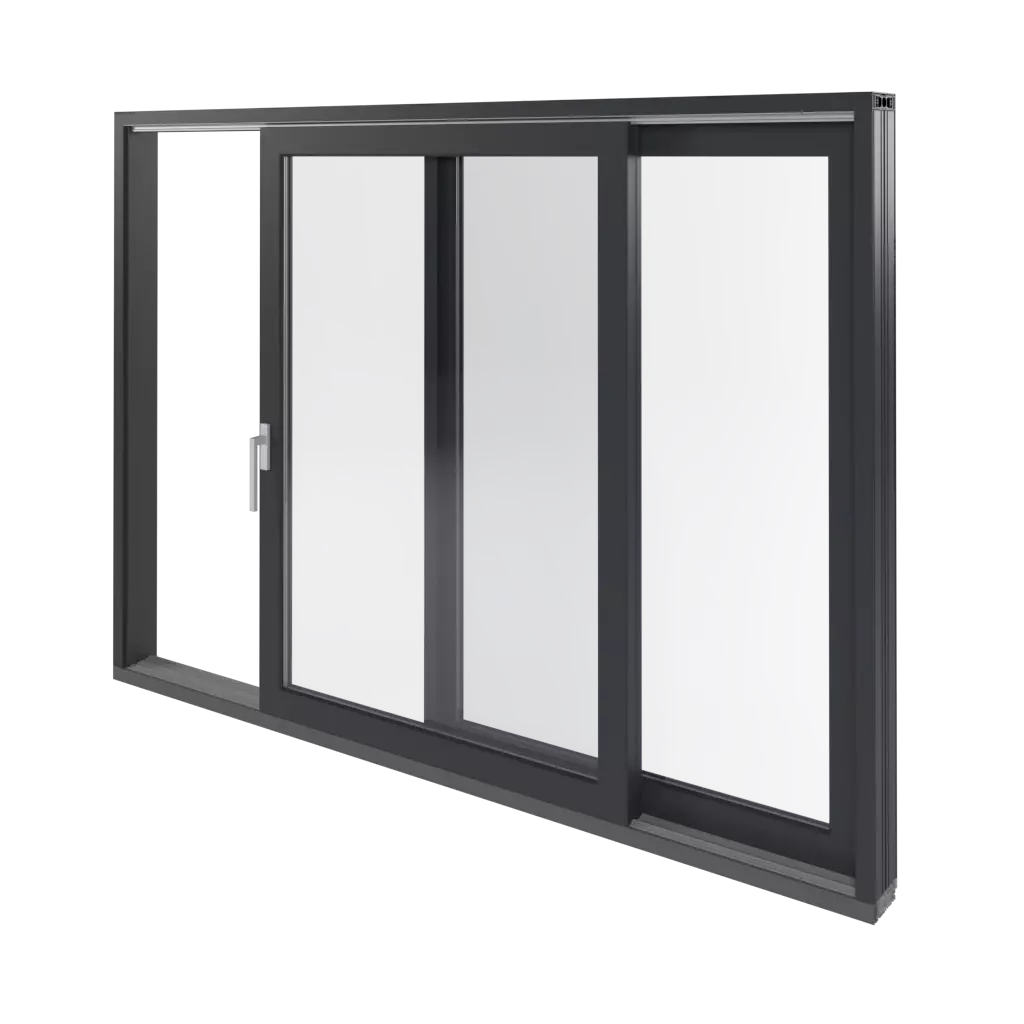 Sliding patio doors offer from Feneste
Available types of sliding patio doors
HST lift-and-slide terrace windows: Our HST terrace windows are synonymous with elegance and functionality. Thanks to the innovative lifting and sliding mechanism, they are available in three different materials: PVC, aluminum and wood. This is a solution that guarantees excellent thermal insulation, reliability and aesthetic finish. By choosing HST windows, you get a product that will meet the highest requirements and will additionally match your interior.
PSK offset and sliding patio windows: Our PSK patio windows are a symbol of versatility. Available in PVC material, they allow the door leaves to be moved sideways, which allows access to fresh air without opening the entire door. This product line combines comfort with aesthetics and a good price. By choosing PSK windows, you receive a product with excellent insulation and durability, tailored to your needs.
SMART-SLIDE sliding patio windows products: Our SMART-SLIDE line is a choice of modernity and functionality. These sliding patio doors are available in PVC material and are characterized by ease of operation and modern design. This is an ideal solution for limited spaces that does not compromise quality and style. By choosing SMART-SLIDE products, you choose products that combine elegance with durability.
The main differences between PSK, HST and SMART-SLIDE are:
Opening method:

HST: the window rises a few millimeters and moves
PSK: the window opens and moves, hiding behind the fixed sash
SMART-SLIDE: the window opens and moves, hiding it behind the fixed sash

Threshold height:

HST: thresholdless
PSK: has a threshold (the height depends on the profile)
SMART-SLIDE: has a threshold

Size:

HST: large
PSK: average
SMART-SLIDE: medium

Price

HST: 💰💰💰
PSK: 💰
SMART-SLIDE: 💰💰
Regardless of the type and material, our sliding patio doors are an excellent choice that will bring natural light into your interior and provide convenient access to the outdoor space. We offer the highest quality, unique design and durability that will meet your expectations. Contact us to learn more about our products and find the perfect patio door to meet your needs.
Advantages of sliding patio doors:
Access to natural light: Sliding patio doors have a large glass area, allowing plenty of natural light to enter the room. This helps create a bright and welcoming environment and also reduces lighting costs during the day.
Easy access to the outdoors: Sliding patio doors provide convenient access to your terrace, balcony or garden. This is an ideal solution for those who want to combine the interior with the outdoor space, which is especially beneficial in the summer.
Optimal use of space: The side-sliding door mechanism allows you to save space that is usually needed to open traditional doors, which is especially important when space is limited.
Aesthetics: Sliding patio doors are aesthetically pleasing and give the interior a modern look. Thanks to their large glass panels, you can enjoy the view outside, which adds charm to the interior.
Air introduction: In the case of sliding doors that can be tilted, it is possible to access fresh air without having to open the entire door.
Thermal insulation: High-quality sliding patio doors are well insulated, which helps maintain a stable temperature inside the room and reduces heat loss.
Security: Modern sliding patio doors are equipped with security systems that protect against burglary.
Durability: Properly maintained sliding patio doors are durable and resistant to weather conditions, ensuring long-term use.
Property Value: Adding sliding patio doors can increase the value of your property and make it more attractive on the market.
Our services include detailed valuations, professional advice, precise measurements, solid assembly, aesthetic plastering, warm window installation, safe delivery, replacement tailored to individual needs, disposal, maintenance and post-warranty service for windows, doors and gates, taking into account customer preferences and applicable standards.