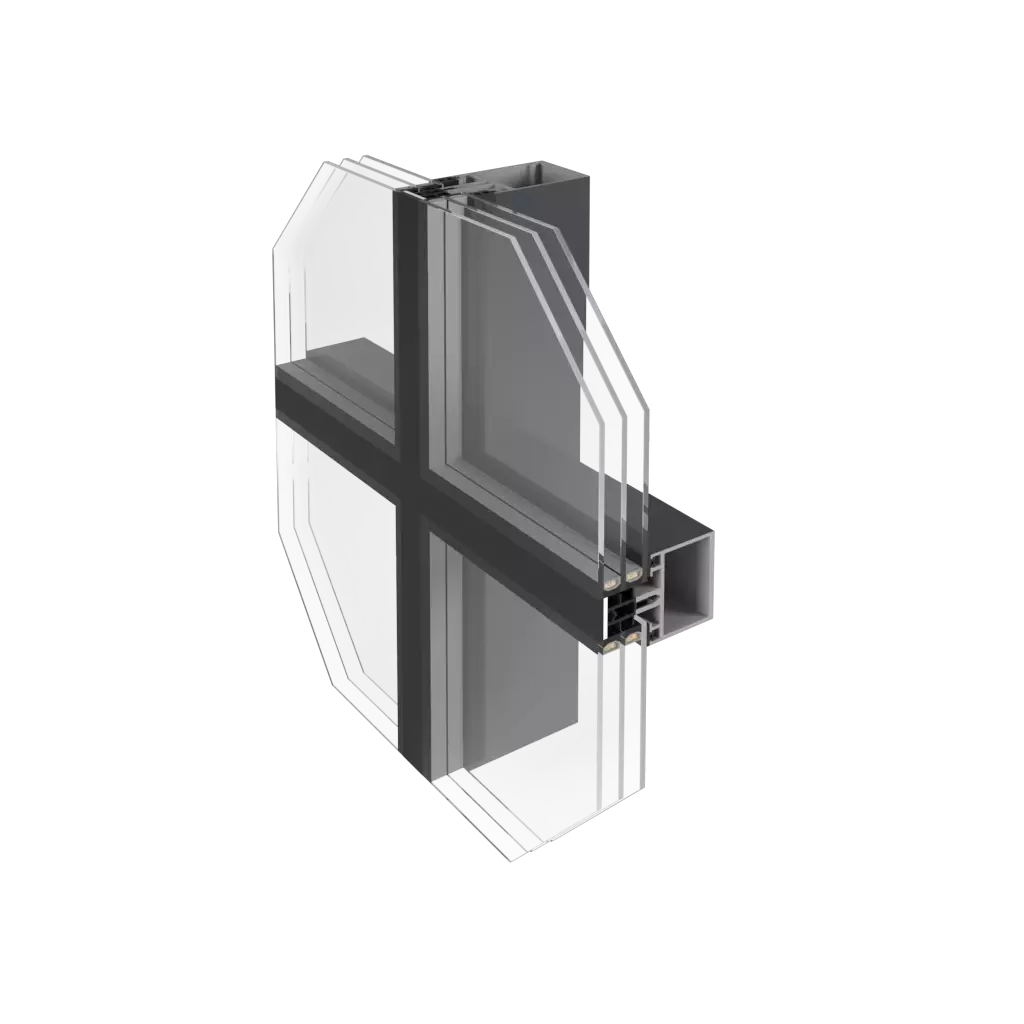 MC Glass is a modern facade window, which thanks to its construction creates a flat surface without visible aluminum profiles. Its large glazing allows for the introduction of an abundance of natural light into the interior. In addition, the product offers a wide range of color personalization, allowing it to match individual aesthetic and architectural preferences.
| | |
| --- | --- |
| Manufacturer | Aliplast |
| Material | Aluminum |
| Width | 55mm |
| Number of chambers | 3 |
| Sealing system | Seal |
| Heat transfer coefficient | 0.66W/m2K |
| Column stiffness | 10.2 - 4092cc* |
| Bolt stiffness | 7.0 - 1831.1cc4 |
| Security factor | 8 |
| Carbon footprint | 7 |
| Durability factor | 9 |
| Wind resistance | Class 2000Pa - 3000Pa |
| Watertightness | RE1800 class |
| Air permeability | Class AE1300 |
MC Glass is a modern semi-structural façade system, perfectly suited to various styles and design requirements. Its unique design, devoid of visible aluminum profiles, makes the façade look extremely aesthetic and minimalist. Thanks to the glass fillings separated by silicone gaps, the external surfaces are clean and smooth, attracting the eye with their elegance.
In addition, the MC Glass system offers a wide range of personalization, allowing you to adjust colors and finishes to individual preferences. It is an ideal solution for those looking for a modern design that allows plenty of natural light to enter the building, creating a pleasant and bright space.
The MC Glass system is characterized by exceptionally high thermal insulation parameters, which is confirmed by the UF coefficient of 0.66 W/m²K.
This impressive result was achieved thanks to the use of innovative insulation materials with excellent thermal insulation properties. Thanks to this, MC Glass provides excellent protection against heat loss and energy loss, contributing to the energy efficiency of the building.
Safe and comfortable thermal conditions inside the rooms are guaranteed, and users can enjoy energy savings and a pleasant atmosphere without unnecessary heat loss.
Many styling possibilities
A wide range of masking strips available in the MC Glass system allows you to create various visual effects for the curtain wall. Thanks to the different shapes and designs of the slats, you can achieve a unique and attractive facade finish by adding decorative elements or architectural accents.
This gives designers and building owners complete freedom in creating aesthetics and matching the appearance of the facade to a specific style and preferences.
The MC Glass system also offers a wide range of colors. You can choose from a variety of shades and finishes, including matte, glossy, metallic or woodgrain. This allows you to create a harmonious adaptation of the facade to the surroundings, the existing color of the building or the preferred aesthetic effect.
Thanks to this, the MC Glass system offers not only functionality and durability, but also an aesthetic fit to any architectural design.
Unlimited façade possibilities
The facade of the MC Glass system offers unlimited possibilities in creating different versions of the external appearance. Designers can experiment with different compositions, including the so-called. horizontal or vertical lines to get the desired visual effect.
This design flexibility allows the façade to be adapted to individual aesthetic preferences and to harmonize with the surroundings and architectural styles. Regardless of whether you care about a modern, minimalist or classic and elegant appearance, the MC Glass system allows you to create a facade that will meet your expectations and emphasize the character of the building.
The MC Glass system provides an impressive glazing surface that opens the space to the outside and lets in plenty of natural light inside. Thanks to this, you can enjoy panoramic views, a sense of spaciousness and harmony between the interior and exterior.
This system creates ideal conditions for creating modern, bright and friendly spaces that promote comfort and well-being of users.