Aluplast Energeto neo design 🆕🏆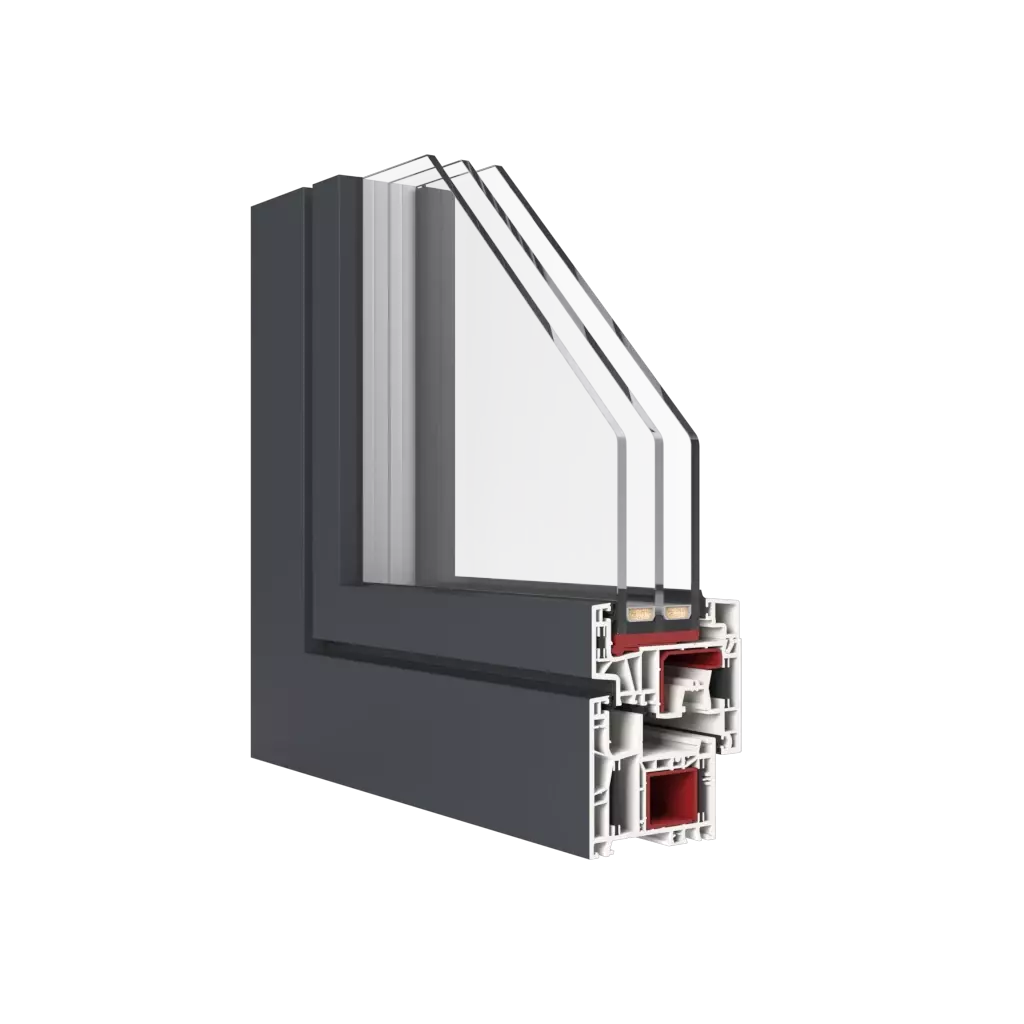 Energeto neo design is a window using advanced technologies, energy-saving with excellent insulation, ensuring thermal comfort. It has a modern design and a wide range of colors. Perfect for people looking for aesthetic window solutions.
| | |
| --- | --- |
| Manufacturer | Aluplast |
| Material | PVC |
| Width | 76 mm |
| Number of chambers | 6 |
| Sealing system | 3 seals |
| Heat transfer coefficient | 1.03W/m2K |
| Maximum acoustic insulation | 44 dB |
| Security factor | 9 |
| Carbon footprint | 9 |
| Durability factor | 9 |
Energeto neo design is an innovative solution developed by Aluplast, based on advanced technologies that guarantee excellent quality and efficiency:

One of these technologies is Powerdur inside, which replaces traditional steel reinforcements with composite reinforcements with an admixture of glass fibers. Thanks to this, the window is not only extremely durable, but also lightweight.

Bonding inside is another innovative technology consisting in gluing glass into the sash rebate. This advanced method ensures perfect sealing and thermal insulation, contributing to energy savings.

As part of the Safetec inside system, a classic middle seal was used, which additionally strengthens protection against drafts and heat loss.

An additional option is the Foam inside option, which allows you to fill the profile chambers with thermal insulation materials. This further enhances the level of thermal insulation, contributing to increased energy savings.

Thanks to these innovative technologies, Energeto neo design is the perfect solution for people looking for energy-saving windows.
Thanks to the "Multifalz" technology, the profiles gain flexibility and multifunctionality. Thanks to this, using one profile shaper, we can choose from various solutions, such as conventional with steel reinforcement, steelless or a combination of both (e.g. for unusual construction sizes).
The use of glued glass technology significantly expands technical possibilities, adapting to various requirements and applications.
Thanks to the "bonding inside" technology, Energeto neo design offers windows a number of thermal and acoustic benefits.
Gluing the glass along the entire perimeter of the glass with the frame ensures a permanent connection that stabilizes the structure and balances the tension generated in the glazing unit. This translates into greater window stability, reduced risk of sash deformation and settling, as well as a longer period of operation without the need for adjustment. In addition, the adhesive creates a protective gap that prevents glass from breaking.
In addition, thanks to the lack of steel reinforcements, the windows achieve better thermal properties, reducing the heat transfer coefficient. The even distribution of stresses along the entire perimeter of the window eliminates the risk of punctate glass breakage.
The use of this technology also enables larger glazed areas and better sound insulation through direct connection of the sash to the glass, eliminating vibrations and maintaining stability.
Energeto neo design windows are a solution that ensures priority safety. Thanks to the innovative SAFETEC INSIDE system, these windows are equipped with mechanisms that provide even greater protection.
A solid central rebate effectively hinders access to the fittings and prevents the sash from being forced open, thus strengthening the resistance to burglary attempts. In addition, the presence of an internal gasket contributes to the improvement of window tightness, thermal insulation and noise reduction.
Energeto neo design windows are also characterized by a lack of tendency to bend, thanks to the circumferential gap with glue. By choosing Energeto neo design windows, you choose, above all, complete safety for you and your loved ones.
Energeto neo design is a variant of a flush window, which makes it stand out in terms of aesthetics and style. In the flush construction variant, the rebates are made in such a way that they form a uniform and coherent surface, eliminating visible gaps between them.

Thanks to the use of narrow, expressive rebates, which are half as narrow as in other aluplast systems, the windows gain a delicate and modern look. In addition, the introduction of a new range of glazing beads with simple contours gives the windows slender and clear shapes both from the outside and from the inside.
This harmonious combination of elements makes flush windows in Energeto neo design systems not only functional, but also a design element of the interior or facade of the building, adding a unique character and style to it. The whole creates a unique charm that affects the aesthetics of the entire space, both inside and outside the building.